Matching consumers with stock
Insight from TLA's daily conversations with in-market buyers suggests that 45% are actively seeking to buy in the next month, while 40% don't want to wait more than a month for a new car to be delivered.
With stock vehicles currently taking on added importance as factories return to capacity, TLA have introduced a stock match lead type aimed at matching high-intent buyers with a specific stock vehicle.
TLA research suggests that more than 90% of buyers are willing to switch from a new car to a short-term alternative if new car lead times are unacceptable, meaning that stock vehicles are a very viable way to support short-term sales.
Our objective with stock match leads is, as always, to deliver fully-qualified, sales-ready leads to dealers, allowing them to focus wholly on conversion.
How does it work?
TLA's in-house contact centre, which specialises in guiding and qualifying the consumer purchase journey, walk a buyer through an online configurator to determine their vehicle preferences, purchase context and financial situation. The contact centre operative then identifies and matches the buyer with an available stock vehicle.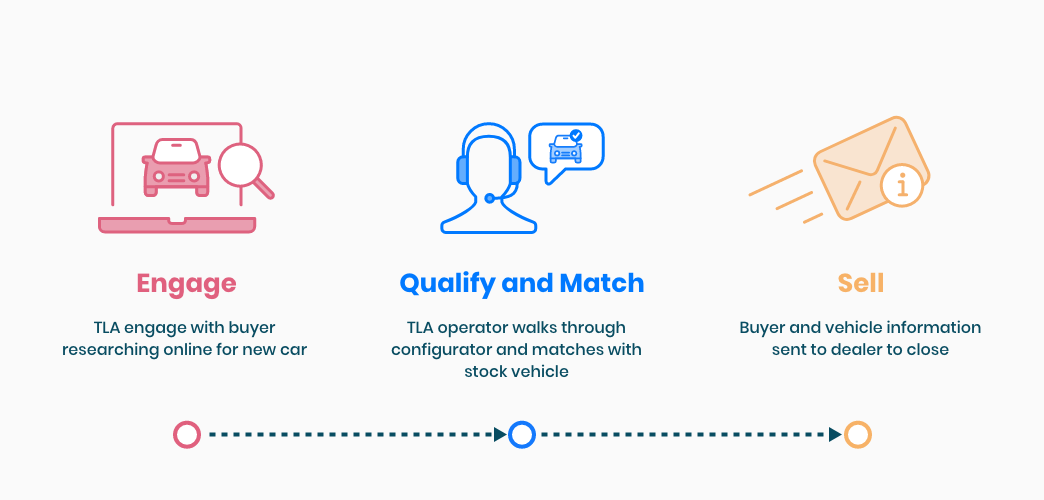 TLA can either use visibility of stock vehicles from OEM websites or plug in a data feed of available vehicles directly from a client.
The result is a record of the buyer's configured vehicle and a match with a stock vehicle or finance package, where available. All information is delivered to the client instantly, alongside the buyer's contact details. With a 360 view of the buyer, matched to a physical vehicle that they have shown interest in buying, dealers can focus on closing these leads immediately.
Anton Hanley, CEO of TLA, said: "Stock vehicles are paramount in supporting short-term recovery for many of our clients, and we want to help them through a challenging and extremely important period."
"Our buyer engagement, market-leading technology and expertise in qualifying in-market consumers will help us progress only the highest-intent buyers, making every dealer interaction with a TLA lead a meaningful and worthwhile one."
For more information on how TLA can support your recovery with stock match and configurator leads, contact [email protected].